5 Must See Sights In Downtown Toronto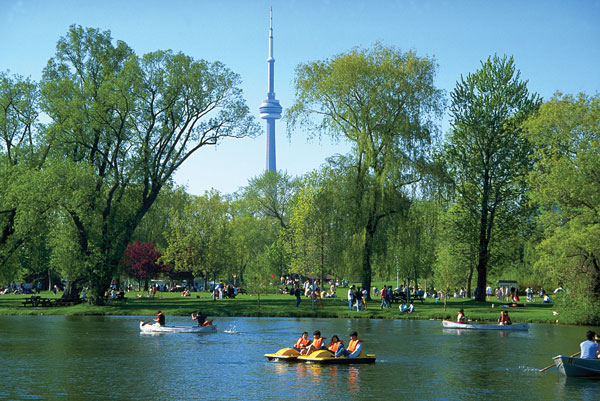 July 2018 – Are you planning a trip to Toronto with your family? It's a genuinely great city to explore. It's relatively safe, as metropolises go, and it's one of the most multicultural cities in North America. There's something here to entertain and inform anyone.
So, once you've gotten your affordable short-term rentals in Toronto figured out, and know where you're staying, here are some great things to do with your family!
Great Attractions in Toronto For the Whole Family
1 – CN Tower
CN Tower used to be the tallest structure in the world, and it's still the tallest structure in the west. The real draw is the observation deck at the top of the tower. On a clear day, you can see the entirety of Toronto laid out at your feet, stretching to the horizon in every direction.
2 – The Royal Ontario Museum
We're extremely proud of the ROM and consider it among the top museums you're likely to find anywhere. It has more than forty galleries and covers far more cultural ground than most museums, due to our multicultural nature. There are plenty of exhibits and activities for the little ones too!
For more museum fun, check out the Ontario Science Centre too.
3 – The Hockey Hall of Fame
OK, this might not be for everyone – but if anyone in your family has any interest in hockey, this is a must-visit. It's also housed in a lovely building with nicely classical architecture.
4 – Ripley's Aquarium
This is the largest indoor aquarium in Canada and is a standout thanks to its absolutely spectacular underwater tunnel that's like standing at the bottom of the sea. It might be a little scary for some younger kids, but chances are they'll love it – and remember it for the rest of their lives.
5 – Casa Loma
Did you know there's an honest-to-goodness castle in Toronto? It's true! You might even recognize it from numerous movie and TV appearances. Most of the property is open to the public as a historic location, and you can go on self-guided tours around its many -many- rooms and hallways.
Fine Superb Affordable Short-Term Rentals in Toronto
Want a place to stay that's like a home away from home? Short term rental apartments from Olivia's Housing are fully-furnished and include all the amenities. Stay in style! Click here to see our current listings.

Looking for short term rental?
Submit the form below to check AVailability or ask a question