In today's rental market, with new condos popping up all the time, it can appear easy to find housing in Toronto. However, today's market is becoming more competitive, and with less than 1% availability in the city,  it's actually harder to find housing these days than ever. It can take up to a few months to find somewhere to live, which can add stress if you don't have a stable housing situation to fall back on, or a transition plan. Hotels and other short term alternatives can be expensive, stress-inducing, and don't provide the stability and feeling of home.
That's where Olivia's Housing comes in. We're here to help anyone, from new immigrants, displaced persons, students, or those who are recently divorced. Whatever your situation, we can help you find the perfect short-term rental in Toronto that won't break the bank. With the lowest price guarantee and fully furnished affordable short term rentals in Toronto, you're sure to find the place that suits your needs and make your transition between homes as smooth as possible. Let's walk you through the process step by step, and show you how Olivia's Housing can help you find your perfect short-term rentals in Toronto.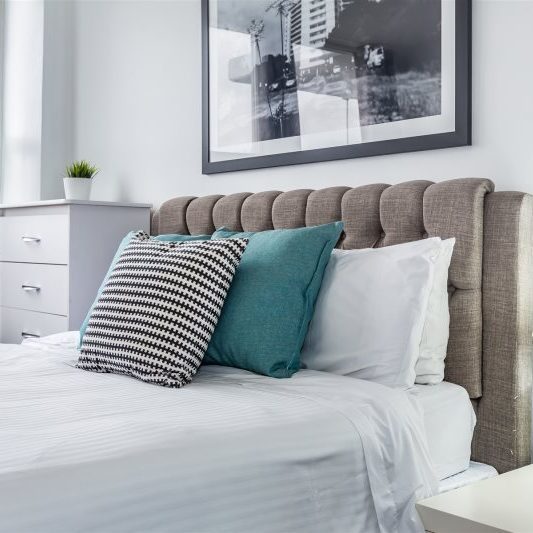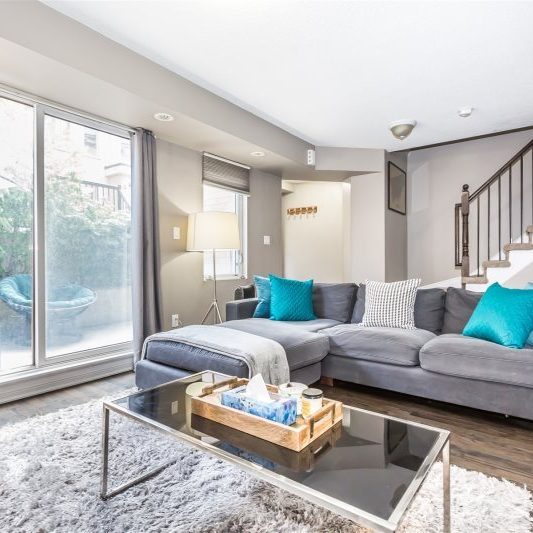 We know that part of finding your perfect home, whether in the short-term or forever, is having the perfect location. Often, this revolves around a job or school, which is much less flexible than housing. That's why we offer affordable short term rentals in uptown, midtown, or downtown Toronto, in prime locations like Yonge + Eglinton or Bloor Street.
We ensure that all our rental locations are close to the subway and close to supermarkets, so that you're able to easily get to work, school, grocery shopping, the gym- whatever it is you and your family need. We also guarantee that we have a wide variety of homes that can accommodate families of all sizes, and even offer pet-friendly homes for those with furry friends. We're also committed to providing homes in areas that are safe, so you can feel comfortable in your home, regardless of how long you'll be staying with us.
If we don't have a property in the neighbourhood you need, we're happy to provide alternative recommendations to help you find a space that works for you. Our goal is to provide you with a space that feels like home, not like a hotel, and alleviate some of the stress from moving!
Just give us a call and we can help determine what your ideal short-term rental needs are and help determine the right location for you!
While some application processes for affordable short term rentals or hotels can be time-consuming, difficult to navigate and require extensive credit checks, Olivia's Housing is different. We don't require credit to apply, because we know the credit doesn't follow from country to country, and moving to a new country shouldn't come with any more stress! We don't want to make the process any more difficult, so all we require is a copy of your photo ID.
When it comes to payment, we ask for everything up front, so there are no hidden last-minute fees. Depending on your term, monthly fees may differ, but all rentals will include a $500 damage deposit and $100 cleaning fee and are always affordable. Once payment is provided and a temporary agreement is signed by all parties, your reservation is booked and confirmed!
If you are coming from out of the country, we will send the agreement via Docu-sign ahead of your arrival, and you can pay by Paypal or bank wire. Should you have any questions, you can reach out to us directly to help coordinate your short-term rental.
We guarantee that we will never cancel your reservation, but offer cancellation up to 30 days ahead of your reservation in case you find your perfect permanent home.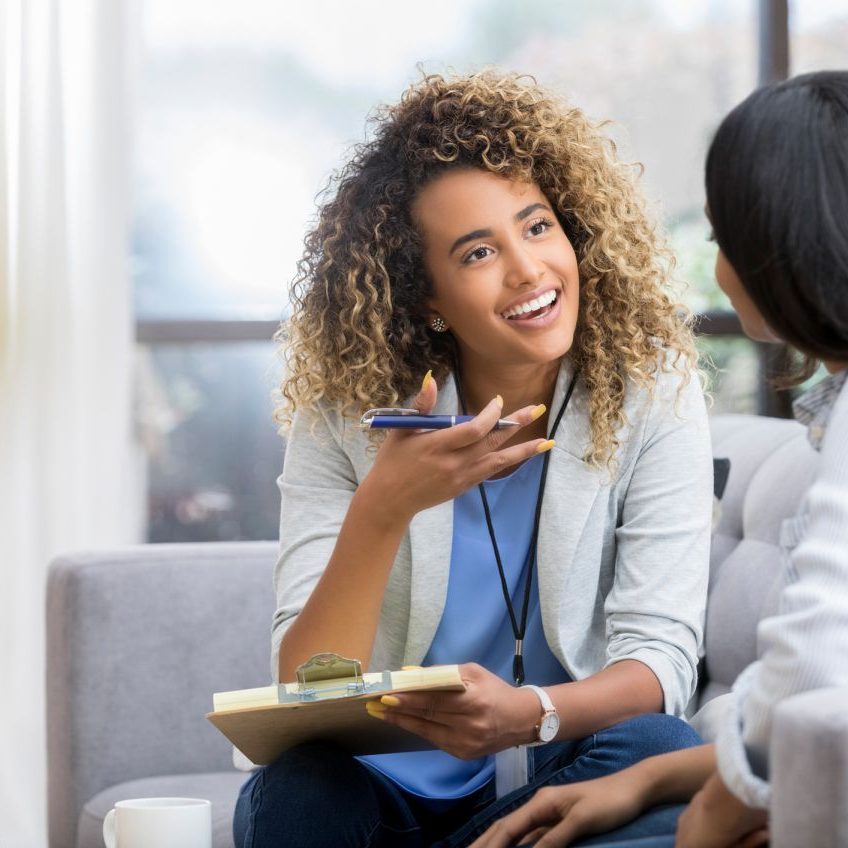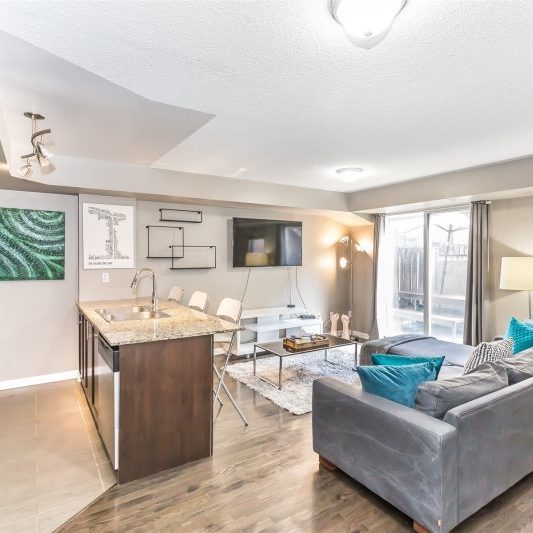 What to Expect
When You Arrive
We want your arrival to be as smooth as possible, so we'll ensure that you have all the information you need to get into your Toronto rental and make yourself feel at home. Three days ahead of your reservation, we'll send you an email with all the important details. This will include how you enter the building, where to get your keys, how to adjust the heating, and any other essential details to help you get into your new short-term home and how to make your stay comfortable.
All of our rental properties are fully furnished and include standard features like premier Rogers cable and high-speed wireless internet. If you're moving in with your family, let us know ahead of time as we can provide cribs or playpens upon request to be ready when you move in.
We also provide a variety of additional services, for a fee, that will help to make your transition stress-free and can even pick you up from the airport to bring you to your new home. We can also help ensure you have all the essentials, like a toothbrush or groceries, available and provide housekeeping on a schedule that fits your lifestyle so you feel at home from the minute you get in the door.
Because we know that long-term or permanent housing in Toronto can be hard to find, you may find yourself needing to extend your stay with us. An extension can help to bridge the gap while you continue your search if you haven't found the perfect home, or until your new home becomes available to move in. Luckily, the process to extend your stay is just as easy with Olivia's Housing!
We ask that you tell us right away if you need an extension so we can ensure availability of your space and that it won't be re-rented to someone else. The more notice you can give us, the better so we can accommodate your needs. While we don't hold dates in advance, we do offer month by month extensions based on your schedule. While we specialize in affordable short term rentals in Toronto, there's no limit on your term, or maximum extension period, so you can customize your stay to your needs. With all the added perks of Olivia's Housing, you may not want to leave!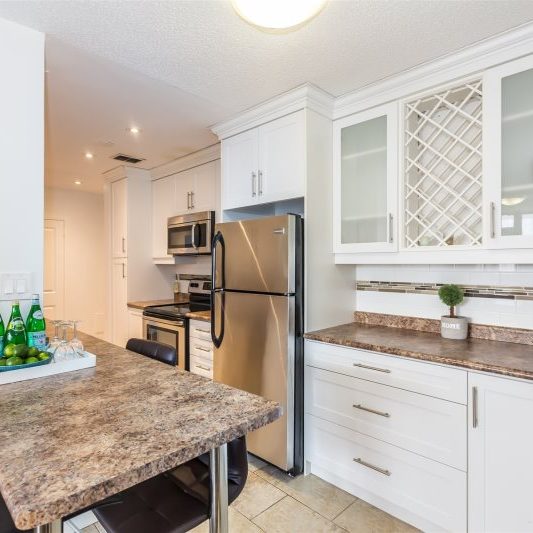 We Make it easy to Find a Short Term Rental
At Olivia's Housing, we know how hard it can be to find long-term or permanent housing in Toronto, and that sometimes you need a short-term solution to bridge the gap between places, or give you time to find a new home without breaking the bank. That's where we come in! We provide affordable, short-term, fully furnished rentals in prime areas of Toronto for students, new Canadian immigrants, families, or anyone who needs a place to stay.
With locations close to the subway line and supermarkets, in safe, sought after locations in uptown, midtown, and downtown, we will ensure that you're able to find somewhere for you, your family, and any furry friends to stay as long as you need, on a monthly basis. With no credit required, we make it as easy as possible to obtain a short-term rental in Toronto, with the lowest price and no cancellation guarantee.
If you're looking for affordable short-term housing in Toronto, call Olivia's Housing today at 1-800-288-9894 or email us at info@oliviashousing.com to learn more about how we can help you find your perfect, temporary home!
Affordable Short Term rentals in Toronto