Short Term Rentals Toronto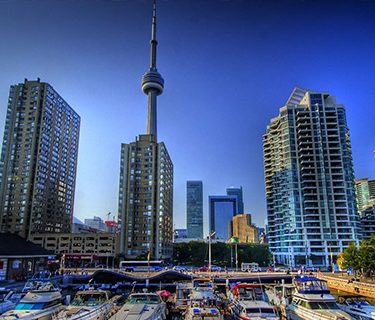 Before we jump into Toronto's relatively new short-term rentals rules, let's clarify what are considered "short-term rentals" .
Short-term rentals are condominiums, apartments or any other rental property, that holds a lease which is less than the standard 12-month lease agreement. Staying in a hotel, or hostel therefore, would obviously not be considered a short-term rental, as there is no lease agreement.
Why this became relevant during the Emergency Orders issued by the province of Ontario in early 2020, is for how it impacted the way travellers seek accommodation, as well as businesses, such as short-term rentals platform, Airbnb. For more information see Ontario's Emergency Orders. 
While the purpose of this short post is to discuss the evolving situation of Toronto's short term rentals market, if you'd like to read more about how things quickly changed for short term rentals operators, this blog TO article discusses how Airbnb became officially "outlawed" in Ontario in April of this year (2020).
Toronto Short Term Rentals
So what is the deal with short term rentals in Toronto? As of this writing, November 2020, Toronto's bylaws have been updated to reflect the new realities of the short term rentals Toronto market amidst the Emergency Orders.
From the City of Toronto website, short term rentals is defined as follows:
"A short-term rental is all or part of a dwelling unit rented out for less than 28 consecutive days in exchange for payment. This includes bed and breakfasts (B&Bs) but excludes hotels and motels. It also excludes other accommodations where there is no payment."
Under the City of Toronto Short–Term Rental Bylaw (PG24. 8), short–term rentals are permitted in Toronto if your listing is your principal residence. Or reversed, anyone who has an investment property (which is not their primary residence) who wants to rent it out for short term rentals in Toronto, under these new regulations, is now unable to do so.
If you want to rent out your home, your primary place of residence, in the short term rentals market in Toronto, you must register your property with the city of Toronto.
Listings for short term rentals without a valid registration number or exemption posted, will be blocked from hosting short–term stays (less than 28 nights at a time) in Toronto. 
To simplify even further: if you were leasing a corporate home rental in Toronto for more than 28 days, this would not be considered a short term rental and the rules would not apply to you.
However if you were looking for executive rentals in Toronto for 28 days or less, it would be considered a unit under Toronto's new Short Term Rental Bylaw (PG24.8) and would have to be registered.
So What Does That Mean For Short Term Rentals Toronto?
Well, it means that if you rent a short term rental in Toronto from a brokerage, a company managing or facilitating your short term rental stay in properties around the city, that company needs to be registered for the transaction to be considered legally valid.
"All short-term rental companies are required to obtain a licence to operate in the City of Toronto."  See the City of Toronto guidelines for short term rentals here. 
Some have suggested that the city of Toronto enacted these new short term rentals bylaws to combat the legal issues the city, and multiple other cities, were having with companies like Airbnb; who during the height of the COVID-19 restrictions, were operating sometimes illegally and contra to emergency measures orders from the Ontario government.
Good or Bad news for short-term rentals in Toronto?
There are varying sides of the debate. Those who believe they should be able to operate short term rentals in Toronto as investment properties, and those who believe apartments and condominiums in Toronto must remain accessible to those who actually live in Toronto, or require short term rentals for emergency reasons or essential work related incidences.
Whatever side of the short term rentals debate you're on, you want to make sure if you're heading to Toronto, or looking for short term rentals elsewhere, that your accommodation is being provided by a reputable company who is operating within the new and evolving rules and regulations.
Are you looking for short term rentals in Toronto?
If yes, here are 4 Things to Consider when Looking for Short Term Rentals:
1. Short Term Rentals Budget Check:
Many short term rentals operators require credit checks, references, security deposits, first and last months rent up front, and other potentially unforeseen expenses such as cleaning services.
Make sure you get all the details of your short term rentals costs upfront. Also keep in mind that when a short term rentals lease expires, the operator is legally entitled to increase the short term rentals monthly fee, should you decide to extend your stay.
Olivia's Housing does not require a credit check for short-term rentals, and all fees such as cleaning, are discussed with our guests upfront. We have heard too many horror stories on clients having unexpected costs and inflated bills at the end of their short term rentals agreement, so being aware of all the potential costs associated with this rental option is important!
2.  Short Term Rentals Amenities Check:
If you are looking for an executive short term rental, you will likely have different needs than if you're a student, looking for short term rentals. Make sure to discuss your needs with a reliable and trusted broker, preferably one who has positive reviews, a professional website and experience in the short term rentals market.
Living in a short term rental for three months is obviously going to be a lot different than leasing a place for one year, and as such you will have different needs. Olivia's Housing provides fully furnished short term rentals for example, as we know you wont be buying new or moving furniture for such short term stays. Make sure to get clear about what amenities you require and that the short term rental you may be considering, has the amenities you seek.
3. Short Term Rentals Filter:
Using a short term rentals agency like Olivia's Housing will save you the hassle of searching for each and every one of your specific needs, agencies take care of all the details.
If you are searching yourself for short term rentals, make sure to filter down, as the search process can be daunting. Do you need a short term rental in a specific neighbourhood, close to a new job, or your university for example? Are you looking for 60-day, or 9-month short term rentals?
Do you need an executive rental? A month-to-month lease? Like the amenities, filtering down your search and by including all of your short term rentals needs, will show you your best options and save you a lot of stress in your temporary accommodations.
And last but not least, and the subject of this short post:
4. Short Term Rentals Legality:
The last thing you want to happen, after preparing your budget, seeking out the right short term rentals in the right neighbourhood, with the amenities that suit you, is to worry about the legality of your accommodation.
You do not want to hand over your money for a short term rental just to be surprised by a bylaw officer knocking on your door to declare your temporary home illegal!
Even prior to emergency measures enacted in multiple cities around the world, residents and community organizations have challenged the operators of short term rentals in their particular neighbourhoods, and every municipality operates slightly different.
This post discusses the regulations for short term rentals Toronto as they currently stand (November 2020) but regulations are always evolving, which is why it's imperative you trust the provider of your short term rentals.
Olivia's Housing operates within the legal requirements for all of our short term rentals and are happy to answer any questions or concerns as to the legality of your accommodation. Before renting, make sure to do your research, read up on the local laws, and preferably, contact a trusted short term rentals agency like Olivia's Housing to take any question or doubt off your hands.
For more information or to find short term rentals in Toronto, contact Olivia's Housing!
Looking for short term rental?
Submit the form below to check AVailability or ask a question